google This Product Is The Exclusive Patent Authorized By U,S,A ,Germany.Taiwan And P,R,C
The first reinforced motor vice (Non-common pneumatic cyl. structure) in Taiwan.
<![if !vml]>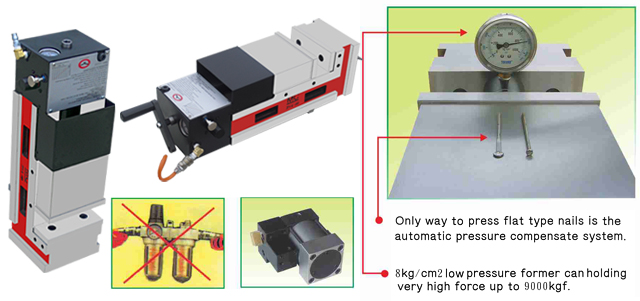 <![endif]>
<![if !vml]>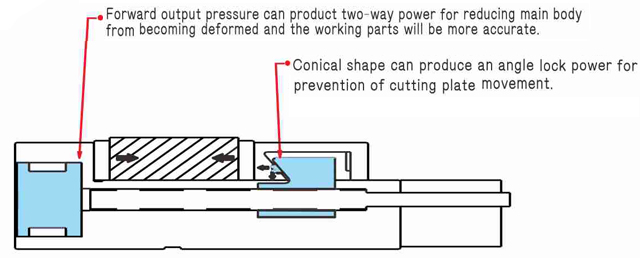 <![endif]>
The principle of this vice is adopting the reciprocating pneu. motor (pat. structure) which R & D by inhouse and that employs an air actuated cylinder. Circuiting progressively to make automation, no need the R.F.L unit to filter the moisture, The sole character is superior than any brand in domestic & international market.
<![if !vml]>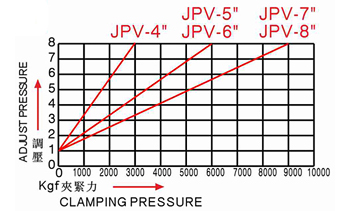 <![endif]>
※Super hi-gripping force:
Even the air source at low pressure 8kg/cm2 which can be achieved super hi-gripping force 9000kgf, and the 0~9000kgf gripping force can be adjusted freely by pressure regulator.
※Seeking the highest air source automatically:
When processed copper, aluminium etc., non-iron workpiece or raw cast iron etc., making heavy cutting which can be made adaptable gripping force to ensure work piece clamping and with auto compensating & retaining pressure etc., functions.
※The biggest safety clamping range:
The shifting speed is only 1.5 sec. with safety range: 8mm, and can be visible the clamped work piece safety range is exceeded or not.
※Triple usage of vertical. side. Horizontal:
Six faces of vice body be super grinding & pre-setting holding slot, and can be processed vertically without jig fixture.
※Super rugged material:
The vice body is adopted hi-tensile graphite casting iron (FCD-60), on-piece design and harden heat-treatment (HRC 45) at two slide way which ensured hi-precision, hi-durability & hi-tensile.
※Submersed angle fixed pressed down structure
<![if !vml]>

<![endif]>
| | | | | | | | | | | | |
| --- | --- | --- | --- | --- | --- | --- | --- | --- | --- | --- | --- |
| Model | A | B | C | D | E | F | G | H | I | J | J1 |
| JPV-4"-100 | 435 | 320 | 125 | 100 | 145 | 148 | 85 | 15 | 100 | 0-100 | 95-220 |
| JPV-5"-150 | 505 | 380 | 125 | 130 | 157 | 160 | 85 | 15 | 110 | 0-150 | 95-250 |
| JPV-6"-160 | 525 | 400 | 125 | 160 | 160 | 163 | 85 | 15 | 120 | 0-160 | 95-260 |
| JPV-6"-250 | 615 | 490 | 125 | 160 | 160 | 163 | 85 | 15 | 120 | 0-250 | 95-350 |
| JPV-7"-200 | 585 | 460 | 125 | 180 | 170 | 173 | 90 | 18 | 130 | 0-200 | 100-300 |
| JPV-8"-200 | 595 | 470 | 125 | 200 | 170 | 173 | 90 | 18 | 140 | 0-200 | 100-310 |
| JPV-8"-300 | 695 | 570 | 125 | 200 | 170 | 173 | 90 | 18 | 140 | 0-300 | 100-410 |
| | | | | | | | | | |
| --- | --- | --- | --- | --- | --- | --- | --- | --- | --- |
| Model | J2 | J3 | K | L | M | X | 夾持力 | N.W. | G.W. |
| JPV-4"-100 | 100-200 | 200-300 | 48 | 100 | 16 | 45 | 3200 | 27 | 29 |
| JPV-5"-150 | 110-275 | 200-300 | 55 | 105 | 18 | 45 | 6000 | 38 | 40 |
| JPV-6"-160 | 120-295 | 210-400 | 58 | 105 | 18 | 45 | 6000 | 48 | 50 |
| JPV-6"-250 | 120-395 | 210-490 | 58 | 105 | 18 | 45 | 6000 | 52 | 55 |
| JPV-7"-200 | 130-350 | 220-460 | 63 | 110 | 18 | 72 | 9000 | 65 | 72 |
| JPV-8"-200 | 140-360 | 230-470 | 63 | 110 | 18 | 72 | 9000 | 70 | 80 |
| JPV-8"-300 | 140-460 | 230-570 | 63 | 110 | 18 | 72 | 9000 | 79 | 90 |
| | | |
| --- | --- | --- |
| NO. | Inspection Items | Permissible value |
| 1 | The levelness of this vice's bottom with sliding face | 0.015mm |
| 2 | The verticality of the end of clamp with bottom | -0.02mm |
| 3 | The verticality of side with sliding face | 0.02mm |
| 4 | The level of vice opening with the T-type flute of this unit's bottom | 0.02mm |
| 5 | The verticality of vice opening with the T-type flute of this unit's bottom | 0.02mm |
| 6 | The level of the top clamped test block with this unit's bottom | 0.02mm |
| 7 | The excess amount of clamped test block to this unit's bottom | +0.02mm |
| 8 | The right angle of this vertical unit to bottom of this unit | 0.02mm |
<![if !vml]>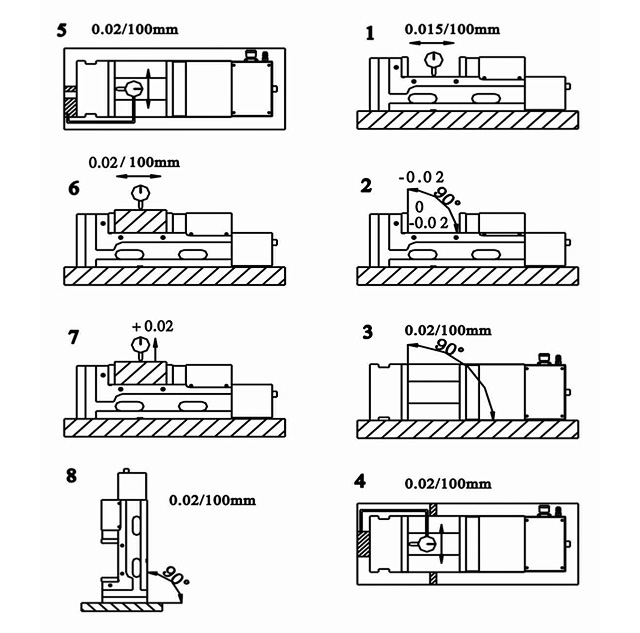 <![endif]>
※Patent
| | | |
| --- | --- | --- |
| <![if !vml]><![endif]> | <![if !vml]><![endif]> | <![if !vml]><![endif]> |
| US6409482 | US8262371 | 大陸1595505 |
| | | |
| <![if !vml]><![endif]> | <![if !vml]><![endif]> | <![if !vml]><![endif]> |
| 大陸1609575 | 台灣M274201 | 台灣M313572 |
| | | |
| <![if !vml]><![endif]> | <![if !vml]><![endif]> | <![if !vml]><![endif]> |
| 台灣M384073 | 台灣M384085 | 台灣M445475 |
| | | |
| <![if !vml]><![endif]> | <![if !vml]><![endif]> | <![if !vml]><![endif]> |
| 台灣M442232 | 台灣M384086 | 台灣M445645 |
| | | |
| <![if !vml]><![endif]> | <![if !vml]><![endif]> | |
| 德國Nr.20 2010 000 310.5 | 德國Nr.20 2012 102 198.6 | |